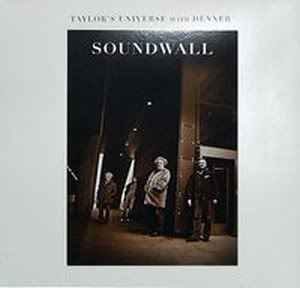 I'll likely have a more in depth review of this CD up in the usual location (for new readers, and especially as I've not included a link before, it's
Progscape - Where Progressive Rock Lives on the Web
...I've been a primary reviewer there since June of 2006, contributing somewhere between 140 and 160 reviews in the past 2 years, along with newer staff writers Paulo André and Chris Piccirillo), but...


Today my copy of the new
Taylor's Universe
album arrived, featuring

Mercyful Fate

/

King Diamond

guitarist Michael Denner as guest soloist throughout. Titled
Soundwall
, it is perhaps in some ways the most shocking Taylor's Universe album to date. Excising from a past review of one of his albums, I have this to say about his
curriculum vitae
:
"Taylor has released 23 albums since 1991, either solo, as part of the composed ensemble Taylor's Universe, or as part of the free group Taylor's Free Universe. His output covers a wide range of instrumental material…composed, melodic pieces, ambient textures and soundscapes, or completely improvised free music. The name on the label is generally a good indicator of what the contents will offer; albums released under Taylor's name alone tend to lean toward ambiance and space, while albums under the Free Universe moniker will contain the most difficult and complex material."


Soundwall
is neither ambient nor free music, though there are moments that perhaps allude to those styles. The pieces feel incredibly tightly composed, melodic without sounding cloying, intensely played. If past Taylor's Universe albums lean toward lighter, jazzier Canterbury bands at times,
Soundwall
instead looks to
Lizard
-era
King Crimson
and Dave Stewart's
Egg
for stylistic influences. There is every bit as much wild, unleashed playing as there is tightly reined in interplay that will keep the listener constantly actively listening. It's heavy without being ponderous, showing a side of the group's playing I'd not necessarily heard before.
I don't want to say any more than that, as I want the review to cover things more fully. But damn...this is good stuff. I'd even go so far as to say this is THE Taylor's Universe album to buy if you've never heard him before. Accessible without being simplistic, complex without wallowing in self-aware complexity for the sheer sake of doing so, this is an early front runner for my top 10 albums of 2008 list...


Read more about Robin Taylor
HERE.
Other Robin Taylor CD reviews:
On-Plugged in Elsinore
9 Eleven: Live at Copenhagen Jazzhouse
Family Shot
Experimental Health
Pork
Taylor's Universe
Certain Undiscoveries
Manipulated By Taylor
Once Again
Oyster's Apprentice